HarbourPilot Mk5
Price On Application
Faster. Lighter. More Accurate.
HarbourPilot Mk5 is the newest generation of Portable Pilot Unit (PPU) and is about to set a new world standard in high-quality precision navigation systems. Our popular and trusted HarbourPilot unit has been through a complete redesign - to be lighter, faster, and more accurate than ever before. 
With the HarbourPilot Mk5, you can feel at ease even in the most critical ship-handling manoeuvres. HarbourPilot is a dual antenna, mGNSS enabled system with highly accurate Heading and Positioning performance.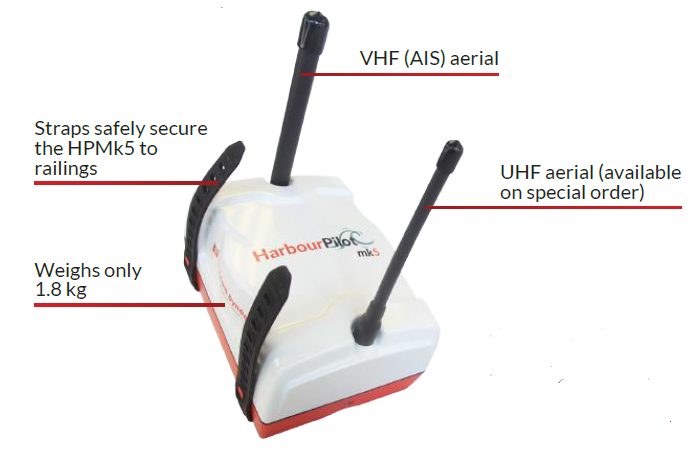 This precision Portable Piot Unit provides pilots with highly reliable information which is completely independent of the ship's data. The stable and accurate data received from the HarbourPilot's sensors is fed to the software for real-time and accurate navigation and docking information. It is an invaluable tool for all piloting conditions and challenges including low visibility, rough weather, and confined navigation and docking.

HarbourPilot Mk5 brings exceptional navigation information to your fingertips. No matter the type of piloting operation, HarbourPilot is the ultimate decision support tool from boarding to berthing.
Features

Performance Features & Usability

Independent : Completely independent source of navigation information. 
Accurate : Dual antenna system provides accurate and stable data to the software to create a real-time image of the vessel on screen.
Easy & Fast to set up : Sets up in seconds with user-friendly controls.
Improves Work  Efficiency: Swept-path predictor for monitoring turns. Increased productivity and profit for Ports.
Enhances Safety : Safer ship handling in confined areas and challenging conditions. Excellent aid in poor visibility or rough weather conditions.
Typical Usage : Harbour docking, Swinging, Tight turns - The HarbourPilot Mk5 can support any manoeuvre.
Interfacing External Data: Optionally provides real-time UKC information. Can be interfaced with shore-based data where needed.
Enhancing PPU Performance/ Data Quality : Receives SBAS corrections (where available), NTRIP RTK, UHF RTK (base station), UHF DGPS (base station and Atlas
satellite-based corrections. 
Pitch, Roll & Heave : Option available for highly accurate data on pitch, roll, and heave.
Multi-Connect Ability : Can connect to multiple devices at once to enable sharing of information.
Specifications

Physical Specifications   

Dimensions: 180mm x 140mm x 90mm
Weight: 1.8 kg
Battery: Li-Ion rechargeable 
Battery Life: 13.5 hours

Technical Specifications    

Position source: GPS/ GLONASS/ GALILEO/ QZSS/ BEIDOU (L1/L2/L5 mGNSS)
Correction source: SBAS enabled (WAAS, MSAS, EGNOS, GAGAN, SDCM, QZSS)
Additional enhancement: UHF RTK (base station), NTRIP RTK, Atlas satellite-based corrections,
                                            UHF DGPS (base station), SBAS (where available)
Position Accuracy: RTK (corrected) 0.01m
                                 Atlas correction services H10 (corrected) 0.04m /H30 (corrected) 0.15m
                                 DGPS (corrected) 0.3m | SBAS 0.3m | GNSS (uncorrected) 2.5m
Heading (HDG): HDG Accuracy: 0.02° at 5m antenna separation | HDG Precision: 0.001°
Bow & Stern Velocity: ± 0.01m/sec (0.02Kn)
Rate of Turn (ROT): ROT Accuracy 0.05°/min | ROT Precision 0.1°/min
AIS reception range: 10nm
Data output: GPGGA, GPHDT, GPROT, AIVDM (when AIS built in) and battery status
Multi -connect ability:  Wi-Fi/Bluetooth (Class 1), GSM
                                       Can connect to multiple devices at once to enable sharing of info
Pitch/ Roll (RMS): 0.5° Accuracy
Heave (RMS) 30 cm rms (DGNSS), 2 cm rms (RTK)

Environmental Specifications

Operating temperature: 20°C to +74°C (-4°F to +165°F)
Storage temperature: -40°C to +85°C (-40°F to + 185°F)
Humidity: 95% (non condensing) 
IP rating: IP 66
(RoHS): HarbourPilot Mk5 meets the directive for Restriction of Hazardous Substances (RoHS)

 
Technical Docs
Product Enquiry